REGISTER EARLY! MINIMIZE YOUR COST!
| ROUTE (Live & Virtual) | 8/1 to 8/31 | 9/1 to 9/30 | 10/1 to 10/23 | 10/24 (Packet Pickup) | Event Day |
| --- | --- | --- | --- | --- | --- |
| 100 Mile | $75 | $85 | $90 | $100 | No Registration |
| 100 Mile Tandem | $95 | $105 | $110 | $120 | No Registration |
| 60 Mile Metric Century | $75 | $85 | $90 | $100 | No Registration |
| 60 Mile Metric Century Tandem | $95 | $105 | $110 | $120 | No Registration |
| 47 Mile | $65 | $75 | $80 | $90 | No Registration |
| 47 Mile Tandem | $85 | $95 | $100 | $110 | No Registration |
| 25 Mile | $50 | $60 | $65 | $75 | No Registration |
| 25 Mile Tandem | $65 | $75 | $80 | $90 | No Registration |
| 18 Mile Family Ride | $45 | $55 | $60 | $70 | No Registration |
| 7 Mile | $40 | $50 | $55 | $65 | No Registration |
THE DAY OF THE TREAD PACKET PICK-UP
Ride Packets may be picked up at Sport Systems, 6915 Montgomery Blvd. NE,  between 10 a.m. and 3 p.m. on Friday, October 23 and Saturday, October 24. There is no packet pick up on event day.
Each rider will receive a number corresponding to the distance being ridden. For the sake of safety and for consideration in the costume contest, numbers should be worn on the backs of jerseys.
Sawmill District / Old Town – Hotel Albuquerque, Hotel Chaco & Sawmill Market
Directions to Hotel Albuquerque – Sawmill District.
As of 8/1/20 final logistics have not been confirmed for parking options for 10/25. Complimentary parking will be available in the area (more detailed parking info will be posted as we approach the event day). Be aware that some streets close to Old Town – Sawmill District will be barricaded in preparation for the ride.
CHANGING YOUR RIDE DISTANCE
Change your mind about your ride distance? No problem. Remember this is a ride, not a race. You simply arrive at the starting line and join the start for your respective distance (check the starting times). You may also change your distance when you pick up your packet at the Packet Pick-up Saturday, October 23rd or 24th, 10am to 3pm at Sports Systems, 6915 Montgomery Blvd NE, Albuquerque, NM 87109.
RIDE SAFETY AND SUPPORT
HELMETS ARE MANDATORY! Safety rules and route maps will be available at number and packet pickup. Volunteers will be on hand to answer any questions related to routes, major intersections, and rules of the road. Since none of the courses are closed, all of the New Mexico Bicycle laws will be applicable. Ride Marshals, identifiable by the "Ride Marshal" bibs on the front and backs of their jerseys, will be available for help with minor mechanical problems such as flats. Roving SAG support as well as bicycle mechanics will be available throughout the courses.
EMERGENCY SERVICES – RIDE SAFETY
All courses, including the Bosque Trail from the entrance at Mountain Avenue to the Alameda Trailhead, will be monitored by Set Medics LLC. Their vehicles are staffed by paramedics and trained professionals who will be responsive to any accidents involving participants or spectators. The start / finish line will be staffed with a paramedic to serve any participant needs as well. Call 911 to report any situations requiring medical attention.
RECHARGE ZONES
NEW IN 2020
Due to COVID-19 Safety Practices, there will be fewer recharge zones on the course on ride day. Plan ahead. Bring plenty of fluids and snacks. Recharge zone volunteers will provide food and grab-and-go snacks. Portable toilets and handwashing stations will be available, as will hand sanitizer and latex gloves. Please be courteous to Recharge Zone volunteers – they are there to support you.
Be extremely careful when entering and exiting Recharge Zones. In these areas cyclists are moving at different speeds and a high degree of communication is required (both verbally and physically). Activity levels and distractions are extremely high. All Recharge Zones are well marked with Approaching Recharge Zones signs.
Recharge stations along the routes close according to a schedule that will allow cyclists to finish by 5:30 pm. If you are riding at a pace that will NOT allow you to finish by 5:30 pm the recharge stations may close before you get there. Ride Marshalls and Sag Support will keep you informed of your positioning with regard to the ride cut off time. If it is apparent that you will not be able to stay in front of the cut off time you may be asked to abandon the ride. This request will only be made if you are unable to continue within the guidelines posted for you safety. We understand the significance of this decision. DOTT ride officials will coordinate your safe return to the finish line in the Sawmill District.
Please be prepared. If you have special dietary restrictions or need additional nutrition please bring your own or plan to stop at a store along the way.
Water is the only beverage served to cyclists. Remember to drink BEFORE you are thirsty. Bring ELECTROLYTE REPLACEMENTS with you to help reduce cramps and muscle spasms.
For safety reasons, cyclists stopping at recharge stations MUST move OFF THE ROAD to avoid oncoming riders and vehicles.
ROUTE / RIDE MARSHALS
Approximately 20 trained and clearly identified Ride Marshals on bikes will be on the routes. They will help with mechanical problems, minor medical needs and encouragement. If you experience a problem on the route just flag down a Ride Marshal—they are there to help you. However, they are also course marshals and will report rules of the road violations to DOTT officials. Remember cyclists violating the rules of the road will be pulled from the ride. Safety is our first concern.
EVENT DAY TIMELINE (October 25, 2020)
The start/finish line will be located on 20th St. NW, between Hotel Chaco and the Parking Garage for Old Town (corner of Mountain & 20th St. NW). All cyclists will follow the route directions as they approach Mountain Blvd., the crossing of Rio Grande Blvd and the entrance to the Bosque Trail system.
Cyclists are advised to 15 minutes prior to your ride start time so you can find a place to park and get to the start line. You will have received all materials at Expo. Riders will be sent off at specific time slots every two minutes.
All courses start and finish on 20th St. NW, Sawmill District – Old Town).
| Time | Event |
| --- | --- |
| 7:25 | Sunrise in Albuquerque (Average Hi = 68, Average Low = 41 for October 25th) |
| 8 - 8:25 | 100 Mile Cycling Events Start (20th St. NW, Sawmill District – Old Town) |
| 8:30 - 9:10 | 60 Mile / 47 Mile Cycling Events Start (20th St. NW, Sawmill District – Old Town) |
| 9:15 - 10:10 | 25 Mile Cycling Event Starts (20th St. NW, Sawmill District – Old Town) |
| 10:15 - 10:45 | 7 Mile & 18 Mile Cycling Events Start (20th St. NW, Sawmill District – Old Town) |
| 10:30 | Post Event Celebration begins in the Sawmill Market – 20th St. SW (Food and Beverage) |
| 5:30pm | Official closure of all routes and support |
| 6:17pm | Sunset in Albuquerque |
RIDE NUMBERS
At Expo/Packet Pickup you will receive a ride number that identifies the specific distance you have registered for. This is not a timed event. Please pin the ride number to the back of your jersey so that you are identified as a ride participant along the course and at all recharge zones. It will also assist us in an emergency situation involving the need to contact the emergency designees that you have provided us at registration. The number will also assist the Costume Committee in selecting the winners in this year's contest for best costume.
ROUTES
Click here for links to the 2020 routes
The routes for 2020 are posted here where you can download GPS routes with spec sheets.
DAY OF THE TREAD courses close at 5:30 pm! All course support, including traffic control and Recharge Stations, will be discontinued at 5:30 pm.
Be prepared at all times to stop for motor traffic along the route!!! Traffic control officials move cyclists through intersections without stopping most of the time, however, you may be stopped to relieve traffic congestion. Please be patient with the police if you are stopped. They do a great service for Day of the Tread cyclists; give them a friendly wave as you pass by! PLEASE OBEY ALL LAW ENFORCEMENT DIRECTIVES AS WELL AS THOSE FROM RIDE MARSHALS AND OTHER EVENT OFFICIALS. THANK YOU FOR YOUR COOPERATION.
ROUTE CAUTIONS
Along the route there are sharp turns, bridges, and railroad tracks and though we try to sweep areas prior to the ride, there may be debris on the road. Take nothing for granted - stay alert.
The event utilizes open public roads, which may or may not be maintained by local municipalities, cities, counties, and/or the State. The event is not responsible for the condition and maintenance of the roads. Road hazards are always possible and in entering this event, you must be alert to all road hazards, including but not limited to: pot holes, uneven pavement, road cracks, road debris, unfinished construction, and motor vehicle traffic.
The Day of the Tread is an event for cyclists of all ages, abilities and experience. Many have limited experience riding in packs. Be cautious as you approach other cyclists and make them aware of your presence by calling out, "passing." Touching wheels is the most common reason for crashes.
If you have any questions please seek out a volunteer at the packet pickuo or on Ride Day at our information booth located at the Start / Finish area.
DISQUALIFICATIONS / PULLED FROM RIDE
Rules were created for safety and fairness for all participants, spectators and the community.  We appreciate your cooperation in following all event official rules, directives from event officials including Bike Patrol , and abiding by New Mexico laws . Rules will be enforced.  Riders found to be violating any event rules will have their number removed. Violators will not be allowed to register for next year's event.
Some rule highlights:
Do not cross a solid or double yellow line.
Properly wear a CPSC-approved helmet.
NO aerobars on your bike
ONE earbud is legal, two is not…
Don't block out other cyclists and traffic!
Ride trailers are welcome.
Help keep Day of the Tread be a safe and fun event for everyone!
Report rule violations to info@dayofthetread. Please include your name, contact info, the violator's rider number, location and details. We'll follow up!  Thank you for helping us to keep The Day of the Tread safe for all cyclists!
Any questions or concerns, contact us at  dayofthetreadinfo@gmail.com
Enjoy the 14th annual DAY OF THE TREAD…Ride Safely. See you at the post event celebration on Albuquerque's Civic Plaza.

If you have any questions please seek out a volunteer located at the Start / Finish area.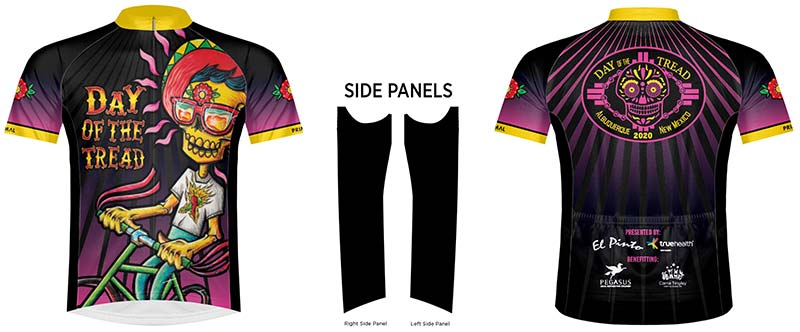 Scroll to bottom of registration screen to see merchandise options.