Due to recommendations from the State of New Mexico and the City of Albuquerque as well as the health and well-being of participants and volunteers, this year's event will be held virtually. Ride any time between October 24 and November 1, 2020. Wherever you ride, please observe all COVID safe practices.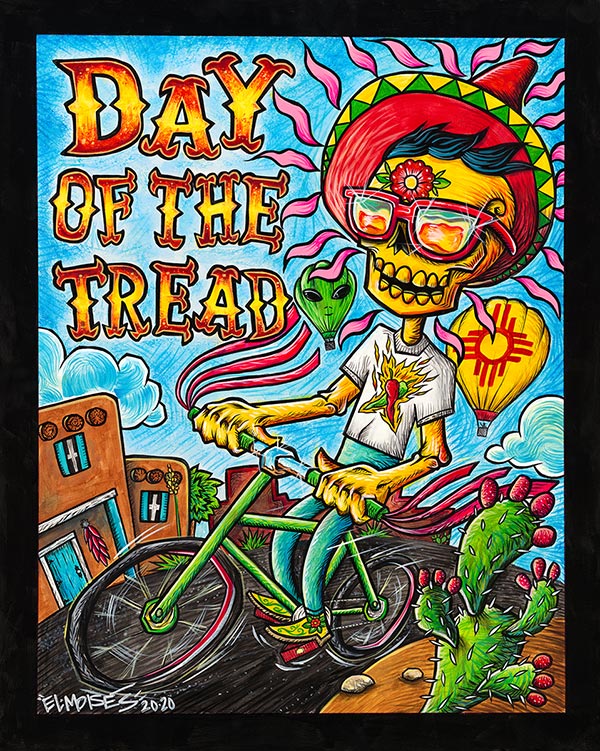 Day of the Tread is a 'Day of the Dead – Halloween', themed bicycling event for cyclists of all ages and skill levels. There is truly something for everyone.
CHOOSE FROM 7 / 18 / 25 / 47 / 60 / 100 MILES OF CYCLING FUN
Join the event organizers for a celebratory beverage at Sawmill Market at noon on Sunday, October 25, 2020.
Day of the Tread has been our favorite event of the year for more than a decade. The courses are fun and safe and the all the Halloween themed activities make Day of the Tread the most fun event we've ever participated in. The Day of the Tread organizers have gone out of their way to support our group participation and accommodated our children with special needs in the best possible way! THANK YOU DAY OF THE TREAD and we will see you in October!
—Zia Freewheelers Adaptive Cycling Team
"My first time participating in Day of the Tread. My first time in the Land of Enchantment. It could not have been more memorable, the people, the event, the fun, the energy, the breathtaking backdrops of the New Mexico landscape, the very worthy and honorable cause. I'll definitely give it a 10, a 12 if at all possible!"
—Charlie Wilson, Rockledge, Florida
Fun for all ages and abilities!

Scroll to bottom of registration screen to see merchandise options.
How Your participation helps kids in new mexico
Imagine you are caring for your grandchild. You still have to work because now you have more bills. Then, COVID-19 hits. Suddenly you've lost your job, which makes your housing unstable. It is even harder to put food on the table. Your grandchild has special needs and needs support with online school, but your internet is unreliable, English is your second language and you've never even heard of some of the online programs.
This story represents hundreds of people throughout New Mexico that Pegasus Legal Services for Children serves. The pandemic is difficult for everyone, but it has hit vulnerable people the hardest. By donating to Pegasus, you are making a direct, positive impact on those who need our support the most. Make a difference today. Support Pegasus by riding in the Virtual Day of the Tread.
DAY OF THE TREAD SPONSORS