The live event is scheduled, pending COVID-19 health orders. We are in regular communication with City and State officials. New precautions we are adding in 2020:
No mass start. Groups of 10-20 will take off every two minutes. You will be assigned a start time based on the distance you are riding.
Five Recharge Zones located at Alameda & the Bosque (9 miles and 91 miles), El Pinto on 4th Street (12.5 miles), Academy & High Desert Community Park (22.5 miles), Placitas Post Office (48 & 58 miles) and Algodones on Hwy 313.

Each recharge zone will offer the following:

Disinfecting Wipes
Hand Sanitizer
Portable Toilets with Hand Washing Stations
Latex Gloves
Bottled Water
Pre-packaged Snacks
Social distancing by riders and volunteers
Frequent disinfecting of tables

We will have medical personnel on the course
No finish party - instead we encourage riders to visit the Sawmill Market
For the health and well-being of all cyclists, no drafting is allowed. Please maintain 15 - 20 feet of distance between you and other cyclists.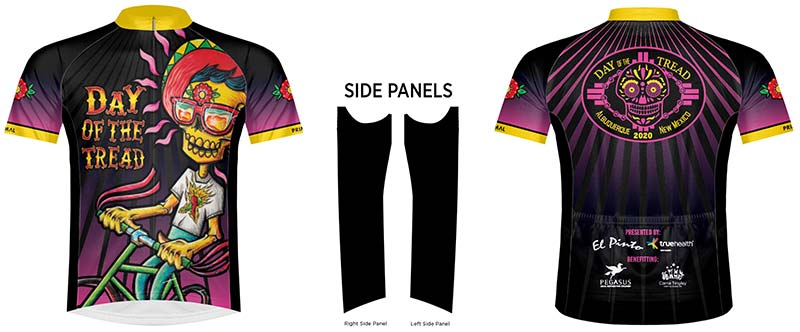 Scroll to bottom of registration screen to see merchandise options.